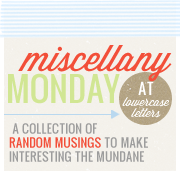 It's Monday. And I'm actually excited.
-My dad turned 60 Friday. He needs grandbabies, STAT!
-Nate Dawg drove me 12 hours through 6 states Thursday night into Friday morning. We had Thanksgiving with my brother Joe Clay and dad's oldest sister, who is 75. She told me when she went to OU, Bud Wilkinson was coaching. That. is. awesome.
-Saturday, Nate Dawg drove me to OKC to hang out with my bff and her baby. And her husband. We watched the game at Brandi and Steve's. Her baby Cailyn is practically an adult. I feel bad that I've missed the first few months of her life. Now that we officially live in this state again, we won't go too long without seeing each other.
-We've gone to look at some houses. My head hurts. Lots of houses. I'll let you know when we choose one.
-I'm taking Norman with me to Pawhuska tomorrow. He'll stay with my parents for a while. This dog was not meant for a small apartment. He needs to run free. And by free I mean a fenced yard. My mom needs a walkin partner, and Normie loves walks. It will be perfect.
-I can't wait until we have kids and I drop them off at my parents house for a while. Right, Mom? You can walk our kids for us.
Go to Carissa's blog and link up-or I'll punch you in your face!
If that's not peer pressure, I don't know what is.