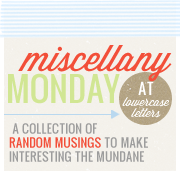 The only reason I'm blogging right now is because Maggie is still asleep. She went to sleep around 7:30 last night. It's 6:15am right now and she's still sleeping! Holla!
-The weather has been amazing the last few days. We took Maggie & Norman on a walk yesterady. Wish I would've taken a picture because Maggie gave me the best "go to hell" look during the whole walk. Nate Dawg would walk over to her and say something, and she'd smile. Then she'd stare back at me with this look of disgust. The next 18 years will be just awesome, I'm sure. :)
-Nate Dawg starts his new job a week from today. He's leaving for Nashville on Thursday to visit some friends. Sunday he flies into Dallas for training for the first 2 days of his new job. This Thursday when he leaves, I'm heading to Pawhuska for a few days to hang out and work out at the ranch. Lots of stuff going on out there for the next few weeks.
-My brother, Paul & his wife, Laura are coming into town next week for Thanksgiving. Very excited to see them!
-No one will tell me what they want for Christmas, so I haven't ordered any Christmas presents yet. I prefer online shopping over actually going to a store.
-Maggie May by Rod Stewart came on the radio the other day when Mags and I were in the car. Photo op.
-My computer is about to die. At least I blogged, right?
I swaddled the heck out of her.