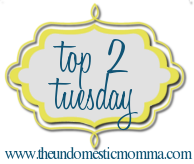 Top 2 Things you've learned about relationships
Most things that you get mad about, you laugh about later anyway. Why not skip the mad part?
This just makes me laugh.
2. Always kiss me goodnight
Also, kiss me when you walk in the door and kiss me before you leave.
I don't care if you're mad, sad, glad, bad, rad, or wearing plaid...gimme a doggone kiss. It makes me happy :)
Play along! Head over to Taylor's blog!