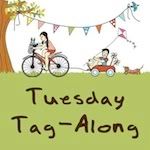 I just joined this Tuesday Tag Along. It's a way to get extra followers. Not sure anyone actually wants to follow me, but with this little game, they have to. muhahaha
On another note-I need to get a spray tan. The last time I got one, I actually worked at a tanning salon. We have this wedding Thursday and I am suuuper pale. I found a coupon for a Magic Tan. That was the kind that was at Tan and Tone. "Tan and Tone America, home of the mist on Magic Tan, this is Morgan, how may I help you?" Lots of m's.
I think I'll go tomorrow and get it done. You can't shower for 6 hours afterwards, so I'll stink bad, but it'll be worth it.
Also, I keep turning off my phone alarm. I woke up at 8:48 this morning and missed my 8:30 workout class. Oops. But I love fall break. Hopefully Katie wasn't going to meet me there. But if you want to meet me there Katie, I will totally set another alarm and put it across the room so I'll actually wake up. For you I will.
Remember that song?
Also, I can't find my phone at the moment. Sometimes when I turn off my alarm, I throw my phone. I'm usually dreaming about a bomb or something like that when I throw it. I need to check on that.
My bff Brandi dropped off her daughter Cailyn at daycare for the first time yesterday. She was a bit upset, to say the least. BUT-Cailyn did great, Brandi did great, I didn't hear how Steve did, but I'm sure he did great as well.
I refuse to turn my heater on. It's supposed to be 80 degrees on Friday. It's 61 in my house right now. I am currently wearing Nate Dawg's sweatshirt, yoga pants, socks, and a blanket. I'm stubborn. Very stubborn.
Now I have a dog in my lap, I think I'll be ok.