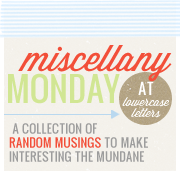 I'm participating in Miscellany Monday for the first time.
It's fall break. Have I mentioned that? I got bored yesterday and decided to make some of the best, easiest cookies ever. I got the recipe from
Skinny Runner
. If you don't know who she is, you should look into her. She is hilarious.
The recipe on her blog is:
Red Velvet cake mix
Add 1/3 cup oil
Add 2 eggs
Mix like your Sir Mixalot. Bake at 375 for 8-10 minutes.
Frost with cream cheese fristing:
1 package cream cheese
1/2 cup butter
1 teaspoon vanila
2 teaspons milk
4 cups powderd sugar
Beat it all up like your Chris Brown.
They are extra good with a cup of coffee in the mornin'.
Then I got bored and made Buffalo Chicken Dip. I've made this before, but found a recipe that was a little different on this blog, Pearls, Handcuffs, and Happy Hour. I didn't do the pockets like she did, I just got some chips and put it in the crock pot. I use the grazing method of eating.
It may look like a pile of vomit, but it is really, really good. I also added ranch even though the recipe doesn't call for it. But I throw ranch into everything. It's delicious. I don't care what my weird friend Mallory says.
I also cooked it in a crock pot. To sum everything up, I did not follow the recipe.
Also, has anyone ever used the silicone boob enhancers? Or whatever they're called. I found some
Commando Takeouts
. We have that wedding this Thursday and I want to add some ooomph to my chest area.
I plan on heading to the mall tomorrow and finding some. They're kind of expensive, but cheaper than plastic surgery.