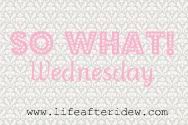 This week I'm saying SO WHAT! if…
-When people ask me how far along I am, I say "one million months".
-I don't go outside. I mean, the high is 113 today. That's stupid. Come on now, I'm one million months pregnant...nothing outside is good for me.
-We set up the pack and play the other day. Norman pouted for a good long time. His world is about to be rocked. I feel bad for him :(
-Yes, I know my dog is a dog. But he's precious.
-I don't ever feel like blogging.
-I got up to pee at 5:15 this morning, so I thought it would be a good idea to just stay up. That was dumb.
-Babies are expensive. I'm not talking about all the stuff they come with. I'm talking about prenatal care and delivery costs.
-I'm not really sure what happened to the months of June and July. And May for that matter. I seriously don't remember what happened during those months.
-I don't like filling my car up with gas. It takes too long.
-I don't understand why people use "da" in place of "the". For example, "Going to da park." I don't get it. It just ain't right. :)
What are you saying SO WHAT! to this week?