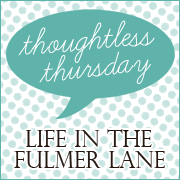 I'm participating in
Katie's
Thoughtless Thursday! First time, yo!
Apparently I haven't been watching enough TV recently to know that all of the NBC Thursday night shows were back on tonight. Good thing I have my trusty DVR to make sure I catch all things comedy. I recorded My Generation, but didn't actually start recording until about 15 minutes into the show. I haven't watched it yet, but I'm excited to see what that's all about!
I'm excited for tomorrow for 2 reasons. 1. Nate Dawg is flying home. Yeaaaa booooyyyy! I'm going to hug him, and squeeze him, and never let him out of my sight. At least until Sunday. Or if he goes to the bathroom. Then I'll leave him be. But other than that, we'll be attached at the hip for 48 hours. SO happy!
2. A special birthday party. This does not include a birthday suit of any kind. One of my assistants at school, Paula, has a birthday September 30. Her husband, Colonel Grogan, will be retiring from the Army for a second time next week, so she won't be here with us on her bday. She works next Monday, then is off the rest of the week We (my other assistant Sylvia) think she'll be expecting a birthday celebration on Monday, so we decided to really surprise her with a celebration tomorrow! We got her a gift certificate for a mani/pedi so she can get all ready for Colonel Grogan's Retirement Party Deux. I picked up her cake this evening and we're ordering pizza for lunch. Exciting day at the middle school if I do say so myself.
Paula always does super nice stuff for anyone and everyone, so she'll finally get her day to be spoiled.
Also, when I got into my classroom this morning, Paula and Sylvia said that a student brought me something. It's a boy that I teach Science and Social Studies to, so I only see him 1 block each day. Anywho, there was a plastic bag filled with stuffed animals and a book. He told me it was a bunch of stuff he didn't want anymore, so he wanted to share it with me. So sweet. I'm not sure if he was trying to be my secret admirer or something, but he wrote on a piece of notebook paper, "For Mrs. Baker. And the other two. From: ???????? PS I am a boy."
The paper was folded in a weird way and clipped to the bag with a bobby pin. How cute. Here are some pics.
The bag included a "Southern Belle Novel", a stuffed Scrappy Doo, a Tennessee Titans bear, and a monkey puppet. Like the kind you stick your hand up it's butt.
As crazy as the days are at school, the gang things that happen, bomb threats, etc. There's always a little sunshine willing to give up his old stuff and give it to you just to be sweet. And this is a boy who doesn't have much at all.
I better get to reading. My class is expecting a book report on this "Southern Belle Novel" before fall break.
BTW: 6 days of school left until my 2 wk fall break. Teachers Rule!