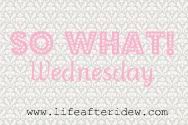 This week I'm saying SO WHAT if…
-I totally pimped my belly out at the Celebrity Golf Tournament last weekend. Recap coming soon.
So what if Tony Romo's wife looks super expensive? She wore a tiny dress to the golf tournament. TINY dress.
Just thought I'd mention that since I'm watching Regis and Kelly right now.
I ate this for breakfast the other morning. Ok, I ate like 5 bites. We had breakfast at Hash House a Go Go.
My breakfast had mashed potatoes in it.
We couldn't even make a dent.
What are you saying SO WHAT! to this week?