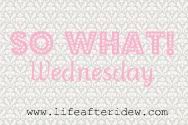 This week I'm saying SO WHAT if:
-I deleted my blog for less than a week. Long story, but I felt like it.
-It made me happy when 3 people asked me what happened to my blog. Hi Haley! Hi Ashley! Hi Marie!
-We leave for Tahoe Friday for our babymoon. I haven't checked with my doctor to see if I can even travel right now. Whatev. There are hospitals everywhere.
That's all I've got for now. What are you saying SO WHAT to?