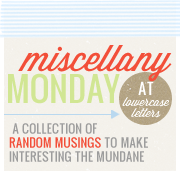 -Yesterday was super sad. Hormones or no hormones, I cried several times. I almost cried in church during the sermon. 10 years ago yesterday was such a sad day.
-The last week or so has been muuuuch cooler. It's been very nice. Today and tomorrow are supposed to be mid-90's. I mean, it's not too bad, but it's warmer than I would like. Too bad I'm not in charge of the weather.
-Friday I took a bunch of old silver jewelry that I hadn't work in 10+ years to a gold & silver place. I got $40! Not too shabby!
Ok that's it. Go to Carissa's and play along.